Savings Up To 50%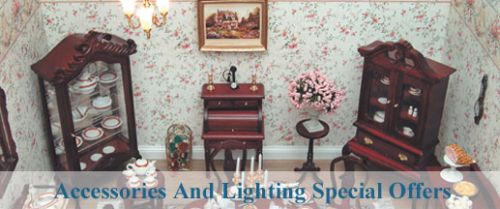 ---
---
We also have one of the best dolls house shops in the UK .
Location Chislehurst Kent - Click here for directions
Saturday 29th August the shop will close at 2pm
Normal Shop Opening Times
Monday - Closed
Tuesday - 10.00 -4.00
Wednesday - Closed
Thursday - 10.00 - 4.00
Friday - 10.00 - 4.00
Saturday - 10.00 - 4.00
Sundays & Bank Holidays Closed
Dolls' House Parade
Once you have the house, then a world of possibilities exist. Keep it simple, and a bit of paint and creativity can go a long way. Alternatively if you want to throw money at the project then a world of crystal chandeliers, flock wallpaper and exquisite furniture is waiting of you. Decoration, lighting, furnishing, and then adding all the knick knacks and accessories that turn a house into a home, will give hours of fun and entertainment.
So join in the fun – you do not know what you are missing!
Friendly Staff



Professional Service
4a, Royal Parade, Chislehurst, Kent, BR7 6NR UK
Telephone: 020 8295 0688 Fax: 020 8295 1061
International - Tel: +44 20 8295 0688 Fax: +44 20 8295 1061
Email: enquiries@dhpf.co.uk
© Copyright 2002 - 2010 Dolls House Parade. All rights reserved.