One of the tests we put to our new customers is "tell us what you think you would find in a period house - and we will show you the dolls house equivalent". Most people are amazed when they cannot catch us out. Here is a list of just some of the things a good dolls house shop will stock.
Lounge: (Click here)
Chair, tables, sofa, chaise, bureau, desk, bookcase & books, shelf, piano & stool, harp, globe, fruit, jardinière, arm chair, table lamp, umbrella stand tea & coffee sets, cake stand & cakes, crystal, silver, pewter, sideboard, wot not, dresser, paintings, sewing machine, ornaments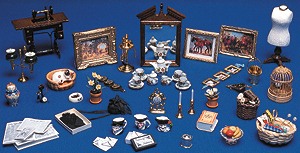 Dining Room: (Click here)
Tables, chairs, cabinets, wall units, crockery, glassware, cutlery, silver, pewter, china, flowers, wine, food, cakes, candelabra,
Bathroom: (Click here)
Toilet, bath, sink, mirror, toothpaste, towels, towel rail, soap, toilet roll
Bedroom: (Click here)
Bed, wardrobe, table, dressing table, stool, chest, pictures, mirrors, perfumes, brush set, wash bowl & jug, bed pan warming pan, wash stand, bible, bedding, rocking chair, commode
Nursery: (Click here)
Bed, cot, crib, high chair, toy box, bunk beds, rocking horse, toys, books, mobiles, balloons, board games, garage, train set, potty, coloured bricks, crayons, painting sets, nappies, piggy bank
Kitchen: (Click here)
Tables, chairs, stoves, sinks, washstands, airer, ironing board, dressers, scrubbing boards, food (prepared & un-prepared), pots & pans, casserole dishes, cutlery, ladle, storage jars, mop & bucket, broom, scales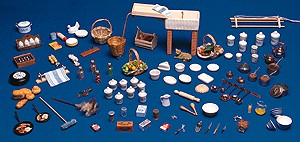 Garden: (Click here)
Grass, trees, plants, flowers, pond, planters, urn, barrel, bird bath, dog kennel, bench, window box, garden furniture, bucket, wheel barrow, fork, spade, trowel, brush, shears, boot scrapers, hanging baskets, animals (rabbits, dogs, cats, birds etc.)
DIY: (Click here)
Wallpaper, carpets, rugs, curtains, paint, glue, tiling, floorboards, architrave, coving, floor boards, skirting boards, dado rail, lights, bulbs, door knobs & knockers, letter boxes, hinges, handles, screws, stairs, spindles, newel posts, handrails, bricks, tiles, shingles, roofing, etc, etc.
These and many, many more items are available at Dolls House Parade, and if you cannot visit any of our shops in person we are just a click of your mouse or a phone call away.