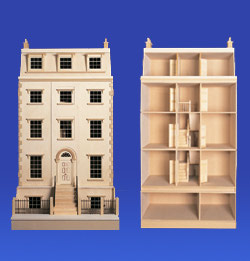 Once a house has been chosen the dolls house hobbyist can embark on making their dolls house into a home. Choosing wallpapers and decorations will be just as much fun, if not more, than choosing them in real life. Take out the stress and cost of getting the real life choice right and you will see what we mean.
Before your house is decorated you must decide whether you are going to have working lights. Lighting a dolls house is simple and safe and we can advise you at our shops how this can be achieved using one of the two methods most commonly available ­ wire and copper tape. You do not have to be an electrician or a handy person to do this. At Dolls House Parade we always encourage people to have a try. The damage potential for a failed job on your dolls house does not have the repercussions that can follow a similar event on your real house. Lighting your dolls house is certainly worth it, when you see the atmosphere that can be created with carefully chosen and designed lighting. It should be noted that, ideally, the preparation for lighting should always be done prior to decorating your dolls house. This will enable you to hide the wiring just as you do in a real house.
Decoration and lighting need not be a problem and helpful shops like Dolls House Parade have enthusiastic staff that will help and advise where necessary. Decoration can be as quick and easy as you like. Simply paint and wallpaper the walls and a homely affect can be created for your dolls house for little cost or effort. Something on a more grand scale can be achieved if you desire. There are many products available to help you achieve a variety of looks for your dolls house rooms. A wide range of mouldings, both in plaster and wood, together with tiling and wood panelling alternatives will allow you to make the rooms of your dolls house as individual as you want
There are many tips, tricks and methods, which you will learn if you become engrossed in the miniatures hobby. Throughout the years you will become more experienced and adept at the art of being a miniaturist. Dolls House Parade even runs a competition, which allows you to show off your dolls house to the world and let people see the results you have achieved. If your fellow miniaturists like it enough you may even win a prize. Likewise you can look at the other entries and you may be able to pick up a few tips and ideas, which will help you with your own dolls house.
Once the rooms are decorated you can now consider furnishing. With the vast range of styles, periods and items to suit all budgets the variations are endless. Just as in your real house you can collect ornaments together with other accessories to fill your dolls house. This more than anything adds the homely touch, and probably says more about you than any of the other things you have done in creating your dolls house so far. Are you a cluttered person or one who likes order? Do you relate more to "upstairs" or "downstairs" etc?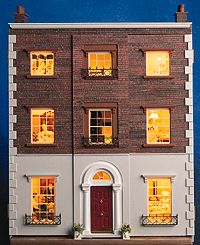 You have now created a "home" and all that remains is for the family to move in. Some prefer not to have "residents" in their dolls house. Others fill it with carefully chosen miniature "people" - owners and their family as well as staff (in the more grander residences) such as cooks maids and butlers. In fact, hopefully, you will have now created the home of your dreams.
"I hope that this has given you an insight into the wonderful world of dolls houses and miniatures. I am lucky that since my husband John bought me a dolls house all those years ago I have been living out my dreams in miniature. Now with Dolls House Parade, my thriving business, with three dolls house shops, I have ended up with a little more than my husband bargained for. But, in addition, I now have the bonus of not only enjoying my own hobby but in sharing my enthusiasm with the many others who have become my customers (and in many cases my friends)".

Lyn Thompson