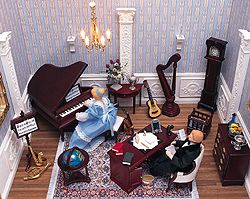 People attracted to the dolls house hobby come in all shapes and sizes. Whether they choose Victorian, Edwardian, Tudor or even Modern periods when buying a dolls house, they find that they are part of a collective band of enthusiastic hobbyists. We now live in a fast moving computer driven age where quality and style is perhaps forsaken for cost and speed. However, collectors can engross themselves into the world of their dolls house, and miniaturists can re-create the finery and elegance of a bygone age. It now seems strange that the very things that have replaced the ways of the past i.e. fast track communications and the Internet are serving to help those people re-create their "dreams in miniature" - such as through this website.
Maybe there lurks in every dolls house collector a secret longing that they could have lived in an age where they would have been surrounded by fine furniture, extravagant architecture, exquisite design and sumptuous decorations. They would be wearing the fine clothes as modelled by their elegant dolls and have been served by the maids, cooks and butlers that staffed the grand old houses of years ago - just like the ones in their own dolls house.
Whilst it is not true of 100% of the hobby, the collection of dolls houses is very much based around 1/12th scale. Most shops and retail businesses supply dolls houses and accessories based around this scale. The number of miniaturists has grown throughout the years and now there are many collectors throughout the world, together with a sizeable network of retailers to look after their needs. In addition to the shops and Internet sites there are also many dolls house clubs (throughout the UK and the rest of the world). These clubs enable collectors to exchange ideas and enjoy together the hobby of their choice. Even dolls house holidays exist to cater for the real miniatures enthusiast, who just needs to get away from the world, to concentrate on the important things in life.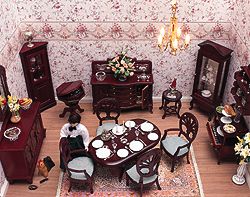 Whilst the hobbyist represents a significant percentage of dolls house owners we must not forget that many a child wakes up on Christmas morning to unwrap their very first piece of property in life - a dolls house. Whilst they see it as a toy the educational value (unknown to them) is great. In their playing they will learn the fundamentals of house furnishings and even decoration (if Mum lets them choose carpets and even wallpapers - although look out for some "interesting" colour combinations at first). Specific ranges of furniture (made to be both robust and safe) and also dolls make it even easier for the child of today to create their own "play house", and to become head of their very own household. In many cases, children who have enjoyed the thrill and benefits of a dolls house as a child, return in adulthood to take up the hobby for real. On the other hand, many a collector is drawn into the hobby in order to have the dolls house that they always wanted as a child.
Most people will be satisfied with one dolls house. However, a growing number of people want to expand their "property portfolio" and they either add a second or subsequent house to their collection. They may decide on variety and opt for a shop, a pub or even create a dolls house garden. There are also those more imaginative enthusiasts who re-create other scenes such as schools and churches and some base their projects on more obscure themes such as funeral directors.