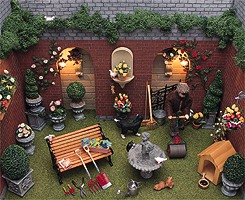 To help put this feature together we have enlisted the help of Annette "Netty" Baker who manages our Dorking shop. However, she is also responsible for the window features in all 3 of our outlets.
Her miniature creations are a wonder to behold and draw admiring comments from all passers-by. Children in particular drag their parents to the shop window to see what Annette has conjured up this time.
The ideas, which could be included in this feature, are endless but we hope by giving you a few of them it will help stimulate your own creative juices into producing your own ideas in addition to Annette's. Maybe next time you are near one of our shops you can pass by and check out her latest creation and see some of Annette's work for yourself.
Dolls House Parade stocks most of the items required for your garden such as grass, soil, trees, shrubs and plants - but you may want to try making a few for yourself, or do what Annette does and use the products available but then add to or enhance them with these "tricks of the trade"
So, without further ado, here are a few ideas to set you on your way: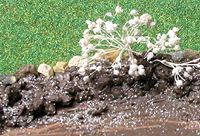 1. Earth / Soil
There are many ways to create earth, but here are just a few:
a. Mix PVA glue with tea leaves.
b. Mix PVA glue with semolina or sand.
c. Mix bathroom sealant (brown) with semolina so that you get a dry consistency.
Leave for 5-10 minutes then rub through your fingers to create crumbs. If the mix is still sticky wait a little longer before rubbing through fingers - this produces a very fine soil (perfect for your bedding plants).
d. Mix bathroom sealant (brown) with pudding rice - this produces a "clumped earth" effect (perfect for the bed that needs digging).
Netty's Tip: Please remember that the sealant begins to go off (harden) after approximately 15 to 20 minutes, so if you want to plant flowers you must do so before it sets completely - unfortunately, unlike the real garden you will not be able to just dig it over again.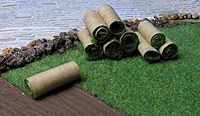 2. Turf
To create rolls of turf, do the following:
a. Cut grass strips measuring 1.5" x 12" (approx 4cms x 30cms) from a grass sheet. Then cut unto 3" (8cms) lengths.
b. Roll the strips up, inside out leaving a small flat piece at the end.
c. Place a small amount of tacky glue on the edge of the roll and press firmly until stuck together - like a Swiss roll.
d. Create additional rolls and arrange in a pile at the edge of the lawn - or an area of soil - as if they are waiting for the gardener to lay them.
3. Paths
Paving materials are available from our stores - but if you want to make your own here is an example for you:
a. Use a piece of foam core board. This is available at good art shops or stationery suppliers. Cut your board to the required length and shape - for instance you can create a curved path.
b. Now you must "distress" it to make it look more realistic. By scoring the board lightly with a sharp craft knife you can create the required pattern. This may be crazy paving (random patterns) or paving slabs by creating more symmetrical patterns.
c. Now the path can be painted with an acrylic paint to the desired colour. Lay a base colour over the entire path but then you can "age" the path by dabbing (with a nearly dry brush) gently, in patches, a slightly darker colour.
d. Next make a few holes with a darning needle or a small nail. Then glue small pieces of grass into the holes and hey presto you now have a charming country cottage path - which unfortunately needs weeding.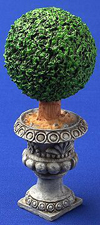 4. Trees
If you buy a topiary tree - made from plaster - and want to make it look a bit more realistic just do the following:
a. Paint the whole of the foliage part of the tree with glue.
b. Sprinkle loose grass or lichen (available from model shops) over the entire area and let it dry.
5. Garden Hose
Every garden has a hosepipe and even though you will not have to water your dolls house garden, a hose will add a little touch of reality. These can easily be made from modelling clay such as Fimo, Sculpey or Premo.
a. Decide on the colour you want.
Netty's Tip: I find the best colour is achieved by mixing a small ball of green clay with a smaller ball of brown. Mix the two together well. This gives a nice weathered look to your hose. If you use just the green it will look brand new!
b. Roll the clay into a long sausage - making sure it is an even diameter through its length.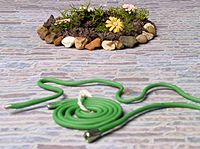 c. Arrange the sausage into the shape you want. It can be made into a snake to go around the garden (as if you are watering it), or looped so that it can be hung on a wall, or a mixture of both.
Netty's Tip: I would recommend that you plan your design before you start working with the clay itself.
d. Now you must create the ends. The best things for these are either the back of an earring or a shaped bead.
Netty's Tip: if you use a bead it must be metal otherwise it will not survive the baking process.
e. Once you have the shape you want your hose must be baked in the oven - following the clay manufacturers instructions.
We hope this helps and inspires you to create your own garden. And don't forget this is the ultimate in low maintenance gardens - one that will give you hours of pleasure without the need for any hard work at all. No need to worry about the weather either - it keeps looking perfect, come rain or shine and it will even survive those frosty nights.
If - having read this feature - you are not sure about doing all these things yourself, there is a great selection of products in our Garden Section which will allow you to create a wonderful garden without the need to get your hands dirty.
If you have any queries that have not been answered by this feature please contact us on
Tel: 020 8295 0688 or Fax: 020 8295 1061
e-mail: info@dhpf.co.uk
We will do our best to answer your questions with the help of "Netty" our own expert gardener.
If you need any other help or advice, or have any suggestions for topics you would like to see featured in the future, or you have your own hints and tips you would like to share with your fellow miniaturists, please e-mail us at: