For the serious collector getting the period details right may become an important issue within their dolls house project / hobby. It is here that architecture plays an important role. Whilst the most popular periods for dolls house collectors - Tudor, Georgian and Victorian - were marked by decorative and furnishing traits it is the different architectural features, which will set your house most firmly in a specific period.
In this feature we will try to explain some of the more important characteristics of the different styles.
Tudor
Walls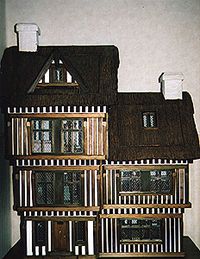 These were generally built with a timber frame (mainly oak, which was plentiful at the time), which gave the support for the structure, with infill panels of wattle and daub (created with woven twigs and plaster). For most Tudor dolls houses the timber beams are surface mounted and finished in a dark colour with the wall space in between coloured white. It is best to use an "off white" or a weathered finish to create a realistic look. In those days roads were muddy so the bottom of buildings were usually quite grubby.
Roofs & Chimneys
In Tudor times roofs were either covered in thatch or small oak shingles. These shingles were laid in a similar way to tiles. Large and multiple chimneystacks were popular especially on the grander buildings of the time. Decorous and ornamental designs were common but circular chimney pots as we know them today did not appear until later.
Windows
Windows in most early Tudor houses were unglazed because glass could only be afforded by the wealthy. Later in the period casement windows appeared and because glass was only available in small pieces the "leaded light" look became popular. This consisted of small square or diamond pieces of glass being held together by lead strips.
It was also during this period that the "dormer window" first appeared - so called because they were first used to give light to the dormitory or sleeping quarters of a monastery.
External Doors
An oak planked door was the most widely used - which consisted of vertical planks on the outside fixed to three internal cross panels. Door frames were usually plain and simple.
Georgian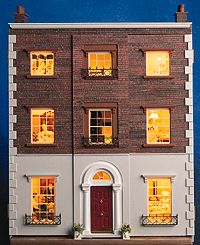 The Georgian period actually covered a span of 116 years - from the accession of George I in 1714 to the death of George IV in 1830 - which also included the Regency period. While classical design was important the period also saw the development of the planned town, where squares and crescents were favoured in towns whilst terraces were common in villages. As building became more organised and land more restricted buildings grew upwards to make better use of land area. Like the tall but narrow buildings of the Tudor merchant, terraced houses and town houses followed the same ideas.
In the town house the ground and upper stories were for the owner, whilst the attic space was for the servants. If there was a basement then quite often the kitchen would be situated here, together with daytime servants' quarters (where space allowed). Railings would separate the basement from the street with steps leading down.
Walls
Brick and stone was now widely used. Dressed stone was used for the houses of the wealthier classes especially in the towns. If brick was used it was most likely to be a red Flemish variety. Dressed stone was more indicative of wealth and taste. However, for those with brick buildings, but with grander aspirations, the answer came with the introduction of "stucco" This was a substance which could be applied to brick which imitated stone. This was widely used by renowned architects such as the Adam brothers and John Nash during this period. An easy way of simulating this for the dolls house enthusiast is by the use of a textured paint, such as Sandtex.
The abundance of large quantities of cheap softwood led to the construction of timber-framed houses clad in what is known as weatherboarding. This was quite a common form of construction for small houses in country villages.
Roofs & Chimneys
Classical Georgian thinking decreed that the roof and chimneys did not form an important part of the design. Therefore, roofs that were shallow pitched or even flat, covered with grey lead were common especially with town houses. Chimneystacks were small and simple and sometimes topped with the circular chimney pots which started to appear in this period.
Windows
The sash window developed into the most distinctive feature of the Georgian house. Rooms were now higher so taller windows were required and the sash window gave the regularity and proportion which designers were looking for. Better construction techniques allowed the use of larger panes of glass although because glass was still expensive, smaller "leaded lights" were still seen on the poorer housing, especially in the countryside. In order to preserve the softwood used in the construction of these sash windows, lead oxide was used as a coating and it was this which gave the white finish which was common.
It was also during this period that the bay window become common. These were usually seen on small shops but were also common in small seaside terraces.
External Doors
One of the most attractive features of a Georgian house facade is its door. The door itself is usually of the standard raised panel variety (unlike Victorian doors which have a sunken panel), but the detail and grandeur is found in the surround. Projecting canopies and porches were made of timber, although in the north of England local stone usually replaced this. A fanlight would also be common because the house design - especially in terraced houses - meant that this was normally the only external wall (and potential light source) on the hall.
Balconies
Another feature of the Georgian house was the balcony. This was sometimes used to emphasise a window or simply incorporated as a safety feature. Because windows often extended to floor level, a balcony made it safer for people standing or sitting near them.
Victorian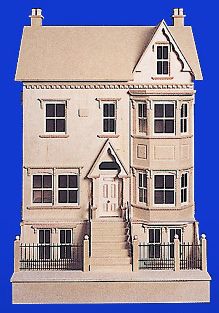 As a contrast to their Georgian counterparts who embodied regularity in their designs, Victorian architects preferred variety and irregularity.
The requirements of the expanding middle classes demanded a house with a number of rooms of differing sizes and designed for varied uses. Ornamental detail on windows, porches and gables were an important
feature of the period
Land values in cities and towns were high so terraced housing was popular, with 2 or 3 rooms per floor. The grander "mansions" for the rich were 4 or 5 stories high, whilst the housing for the poorer classes consisted only of a ground floor and first floor.
Walls
Virtually all Victorian houses were constructed of brick - now machine made rather than the previously hand made variety. These were cheaper to produce, easier to transport and therefore available to everybody. The use of machinery allowed different colours and types of clay to be used in brick production, therefore coloured patterns could be created in walls. The Victorians preferred the more lively finish of brick to the plainness of stucco, which had been chosen by their predecessors.
Tile and terracotta was also used widely as a decorative feature especially on walls and gables.
Roofs & Chimneys
Because of cheaper transport, Welsh slate was used throughout the country on pitched roofs. These were topped off with ornamental ridge tiles and fretted bargeboards on gable ends. Rolled, sheet lead was still used to cover flat areas such as over bay windows etc.
Chimney pots were popular as they gave added variation to the roof line (as well as their practical function of reducing smoke). Pots were often quite tall, i.e. 2 feet for this reason.
Windows
The sash window was still the favoured choice just as in Georgian times. However, with different production methods available, large panes of glass could now be used. In general, sashes were glazed in either a single large pane or 2 smaller ones. Bay windows became popular as architects realised that the outlook of living rooms could be improved by designing windows with three aspects.
External Doors
A typical design for the front door consisted of four panels - two longer panels on the top half of the door and two smaller ones beneath. These panels were flat and recessed (different to the Georgian versions, which were chamfered and raised). Glazed panels with brass door furniture enabled Victorians to create a main entrance to impress their guests.
Edwardian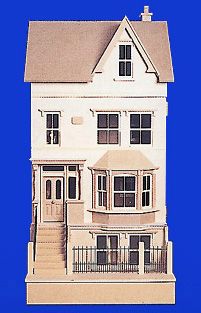 This period was relatively short (1901 - 1910) so Victorian and Edwardian styles are often lumped together as one indistinguishable approach to housing, although there are in fact important differences between the styles of these two eras.
Edwardian houses are simpler and less grand than their Victorian equivalents. The decoration and variety of Victorian design was replaced by a more masculine look. Houses were designed to be functional rather than beautiful. The influence of historic revivals was replaced by the desire to create buildings, which were more suitable for the age they were built in.
Whilst the design retained many of the features of the Victorian house, such as sash windows and bays, the exterior was altogether more plain. Brickwork was simple and roofs lacked the fancy ridge mouldings seen previously. Doors were often "half glazed" and glazed porches ensured plenty of natural light for the hallway.
The development of the commuter town led to the creation of streets of plain, red brick fronted, gabled semis which are characteristic of this time. The first Garden Cities were also created during this period as well as the "workers towns" such as Saltair and Cadbury.
We have only covered a few styles here - but they are, we feel, the most popular with dolls house collectors. It should be remembered that there is no sharp division between periods, but rather a gradual change and a blend from one style to another. Furthermore, throughout the ages architecture has been influenced by "revivals". For instance, during Victorian times (1837 - 1901) both a Gothic and a Queen Anne (Stuart) revival were experienced. So some buildings built in these years bore more resemblance to styles from an earlier time. Add to this, the result of "foreign" influences and you can see what a confusing issue choosing the right styles for a particular date becomes.
I hope that this feature has given you a small insight into this fascinating subject rather than frightening you with its complexities. Above all, as we always say -
"have fun with your hobby and do not follow historic accuracy out of necessity, but rather if that is truly what you want to do".
If you have any queries that have not been answered by this feature please contact us on:
Tel: 020 8295 0688 or Fax: 020 8295 1061
e-mail: info@dhpf.co.uk
We will do our best to answer your questions.
If you need any other help or advice, or have any suggestions for topics you would like to see featured in the future, or you have your own hints and tips you would like to share with your fellow miniaturists, please e-mail us at: